People love to destroy things. Always have done. Always will. It is thus no surprise that the archaeological record is filled with deliberately damaged and buried objects. I became interested in this while studying a 3000-year-old Bronze Age axe at Somerset County Museum that had been broken in half, crushed and melted. How was it done? And why?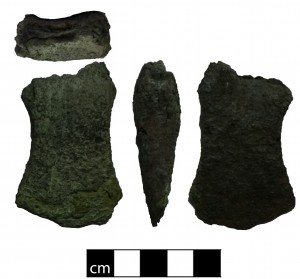 This was not an isolated instance. Deliberately destroyed Bronze Age metalwork is found across Europe. My curiosity in this phenomenon led to me undertaking a PhD in 2014. I began from the simple question: why did people destroy things?
This question has been debated for Bronze Age metalwork since the 1800s. However, few archaeologists have considered how metalwork was destroyed or how one might identify deliberate destruction.
Often Bronze Age metalwork is considered destroyed by its obvious nature. A sword bent in half and thrown in a river is certainly an intentional action; so is a group of bracelets crushed into a ball. I call this the 'common sense' approach to destruction. Broken axeheads found in the ground are often considered to have broken through overuse. Broken swords in the same situation are still considered to be deliberately destroyed though.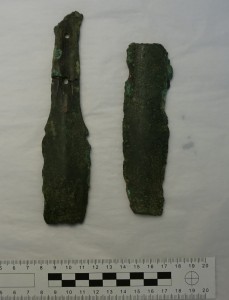 This is problematic because it makes assumptions about what humans did to different objects without considering how it was done or the significance of different objects. Instead, modern assumptions about the importance of a sword over an axe are projected onto the past.
To tackle this, I studied many (many!) Bronze Age metal objects across my study region (South West England). I also commissioned Neil Burridge to produce experimental replicas of archaeological artefacts, including swords, spears and axes. I then tested different modes of destruction to see how easily one might break a Bronze Age metal object. The aim was to replicate prehistoric damage.
The easiest method for breaking a bronze object is to heat it and hit it. Stick a sword, spear, or axe into a fire, remove it and strike with a blunt object and it will usually fragment.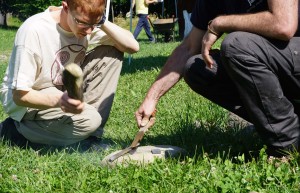 Of course, it's slightly more complicated than this, with factors such as the temperature and the metal composition of the objects playing important roles. Meanwhile, it is much more difficult to damage an object that has not been heated. Different conditions mean damage will occur in different ways. By identifying the various techniques used for destroying metalwork, we can begin to more clearly understand prehistoric techniques and decision-making processes.
These experiments thus added a new dimension to the study of metalwork in the South West in much the same way using replica swords in combat experiments helps us understand how these weapons were used in the past. Experimentally destroyed pieces could be compared with damaged archaeological artefacts to determine the likelihood that they were deliberately destroyed. This could be strengthened by analysing patterns of damage, as well as the depositional context in which objects were found (e.g. a hoard, a settlement or a burial).
The material from South West England was particularly interesting as a variety of practices occurred across the region. In the Early Bronze Age (c.2200-1600 BC), metalwork was burnt and broken with bodies during cremation. In the Middle Bronze Age (1600-1100 BC), gold objects or large hoards were most commonly damaged. By the Late Bronze Age (1100-800 BC), lots of metalwork destruction was taking place. It was more common to break axes and ingots in Cornwall and Devon and bury them in hoards.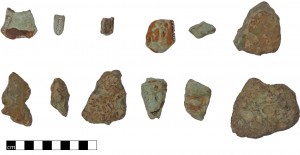 Meanwhile very little deliberate destruction was undertaken in Dorset. In Somerset, metalwork destruction was influenced by other areas. This means there was no overall pattern that could be observed. This indicates that destruction was not part of a uniform ideology. People undertook different practices at different times for different reasons. There is no 'one-size-fits-all' approach.
It is important to consider that it wasn't just metalwork that was destroyed. Stone objects and ceramic vessels were also commonly destroyed. Additionally, roundhouses were often burnt and dismantled. The destruction of Bronze Age metalwork was part of a broader set of concepts that allowed people to express certain ideas. Some objects may have been destroyed for recycling. Meanwhile, others were destroyed for symbolic reasons, perhaps as votive offerings. These are ideas that archaeologists have been grappling with for decades. By combining these questions with an understanding of how destruction was done, we can begin to appreciate the skills, processes and decisions involved in the practice. This will ultimately give us a better understanding of the past, which after all is what archaeology is all about.
Acknowledgements: My thanks go to Neil Burridge for engaging with this project, as well as countless museums for accommodating research visits.
Matthew Knight is Curator of the Bronze Age collections at the National Museum of Scotland. Further details about his work can be accessed at: www.alifeinfragments.wordpress.com.