As a mortuary archaeologist, I explore graves and tombs, memorials and monuments, buildings and landscapes. I look not only at spaces dedicated to the dead and their memory – cemeteries and mausolea, but also how the dead, in many societies and cultures, are integrated into domestic and public, sacred and secular buildings.
In 21st-century multi-faith, multi-cultural Britain, the principal churches of the established church – cathedrals – retain a widespread significance for worship, pilgrimage, tourism and the commemoration of the dead and I am exploring how the dead are given material form, interpreted and reinterpreted within these environments, configuring, national, regional, local, community, family and personal memories.
Through cathedrals, one of my research interests is to consider how the dead 'live on', not as mummies or preserved remains, but through material culture and monuments that sometimes endure for centuries. These monuments can rightly be discussed as having 'biographies' of use and reuse, acquiring different responses over time.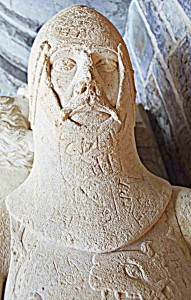 In this regard, it seems appropriate to report on my latest public talk at the University of Worcester on Wednesday night. I focused on some of my preliminary findings from the Leverhulme Trust project Speaking with the Dead.
Using St David's Cathedral as a case study, I explored the 'Living Medieval Dead' within cathedral spaces. This is part of the ERC funded Past in its Place project, exploring literary and archaeological engagements with medieval and modern tombs in English and Welsh cathedrals.
I am posing the question: how do the medieval dead 'live on' in the late-modern cathedral? Who are the medieval living-dead?
By 'living dead', I don't mean zombies, ghosts or other supernatural forces, but the physical presence of the dead in both named and unnamed, individual and collective, effigial, artistic and non-representational forms, that populate cathedrals and their environs.
In almost all cases, these medieval memorials and monuments, relics and bones, are swamped by a vastly greater number of post-medieval memorials, and yet they retain a power within cathedrals in articulating the histories and people associated with the building and often the deep-time mythical and historical origins of these institutions. Therefore, I'm interested in how the medieval dead 'live on' during the 19th, 20th and 21st centuries in the sense of enduring presences in social memory through their materiality and incorporation into the official histories and guides of the cathedral space.
I outlined how this approach might apply to St David's Cathedral, Pembrokeshire. For the purposes of the talk, the way I introduced this topic was to outline our obsession with creating dead celebrities – named individuals whose identity is inscribed and represented onto cathedral space and honoured accordingly. I talked about how archaeology often finds itself complicit in strategies to 'fix' and 'name', envision and embody such identities within cathedrals through excavations elsewhere, or excavations within cathedrals. The classic recent example of this is Richard III, but the Worcester pilgrim, in discussion afterwards, was a logical local example.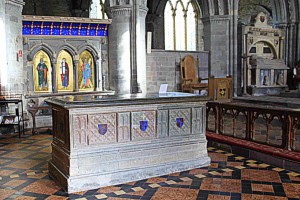 Through the case study of St Davids, this theme can be applied to a range of material traces that are, or purport to be, medieval in origin. I explored examples of such naming and re-naming over the centuries, including shrines and tombs that most certainly do commemorate specific legendary and historical personages from St Davids and St Caradoc to Edmund Tudor, a deacon and a few bishops.
Then there are those monuments that have acquired commemorate historical personages, from the tombs purported to commemorate the Lord Rhys to the effigy of Gerald of Wales. These are equally 'living' presences in the cathedral, even if the association is likely fictive and contrived to satisfy a desire for the tombs within the cathedral to 'speak' as named individuals.

Yet I also made the point that shrines and tombs linked to named medieval people are not the only way in which the medieval dead 'live on' in memory for those working in and visiting this holy place. I also talked about the power of the unnamed medieval dead in the medieval cathedral – most effigy tombs of medieval date have no surviving inscriptions, having been dislocated from their original locations in former centuries. Most are now simply 'tombs of unknown priest'. Others 'live on' through the inclusion of grave-goods disturbed during excavations of medieval (bishops') graves in the cathedral treasury.
A further way in which the medieval dead 'live on' and populate cathedral space are through the names that have no correlation in the historical record. For St Davids, examples include the collection of early medieval stone sculpture now on display within the cathedral gatehouse and also incorporated into an altar in the church.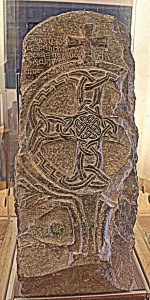 A final dimension discussed was the citation of the medieval dead in post-medieval memorials and tomb art; how medieval forms are re-contextualised and re-formulated within new memorials. At St David's, this applies to an early medieval effigy tomb, an early 20th-century bishop's tomb, and the disturbing tomb of Lady Maidstone…
In summary, my talk presented a new way of considering the collective and individual nature of the medieval dead in the late-modern cathedral, and how, partly through design and management, partly through happenstance and cumulative processes, the medieval dead populate and constitute a network of stories and memories within cathedrals.
Howard Williams Bsc MA PhD FSA
Professor of Archaeology, Dept. of History & Archaeology, University of Chester
Honorary Editor, The Archaeological Journal